18th Annual Convention: What's New and Essential in Your Practice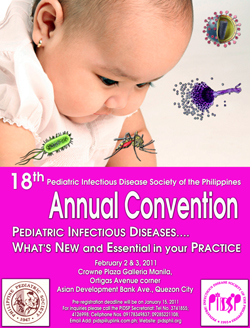 February 2-3, 2011
Crowne Plaza
Click here to download Guidelines for Abstract submission
Click here to download Abstract form
Click here to download Registration form
Click here to download Research Paper Contest
Note: CME units for convention
PPS - 14.5
PAFP - 20
PMA - 60
---
Dear Colleagues and Friends,
It is with great pride and honor that I invite you to our DEBUT – the PIDSP' 18th Annual Convention.
The scientific committee with the theme "Pediatric Infectious Disease: What's New and Essential in Your Practice" has prepared a high quality, well balanced scientific program significant to the physician's everyday clinical practice, at the same time providing updates in relevant pediatric infectious disease issues. We are fortunate to have Dr. Sheldon Kaplan, from Texas Children's Hospital in Houston Texas, USA and Dr. David Isaacs, from Royal Alexandra Hospital in Sydney, two world renowned pediatric infectious disease authorities as our foreign speakers. Apart from plenary lectures and symposia, panel discussions with our local experts are also part of the scientific highlights.
Once again, please mark February 2-3, 2011 at the Crowne Plaza and join us in the scientific celebration of our debut.
Sincerely yours,
Gyneth Lourdes G. Bibera, MD
Over-all Chair
18th PIDSP Annual Convention


PIDSP Officers (FY 2012 - 2014)

President:
Beatriz P. Quiambao, M.D.

Vice-President
Salvacion R. Gatchalian, M.D.

Secretary
Ma. Liza M. Gonzales, M.D.

Asst. Secretary
Anna Lisa T. Ong-Lim, M.D.

Treasurer
Antonio E. Chan, M.D.

Asst. Treasurer
Melba V. Masigan, M.D.

Auditor
Gyneth Lourdes G. Bibera, M.D.